Big announcement…
WE HAVE A FREAKIN' OFFICIAL COMMUNITY!!!!!!!!
(Please excuse the all-caps shout. This has been so very long in the making, and I reserve the right to shout with glee from the internet-rooftops.)
THE WANT COMMUNITY is exactly what I envisioned for WANT when I dreamed it up back in 2007: it's a place to shift your self talk, build a positive mindset, and make a lasting impact by being the you you know you're meant to be.
WHAT IS THE WANT COMMUNITY?
We're a members-only club by women, for women that gives you empowerment, encouragement, resources + support to shift your self-talk – not just from negative to positive, but from reactive to proactive.
WHY SHOULD I JOIN THE WANT COMMUNITY?
Well, I believe that you deserve to be the You you know you're meant to be…and you deserve to be surrounded by the kind of support + encouragement that makes you believe it's possible to THRIVE being that person. TWC is where you go to build positive habits, self-confidence, and self-worth for the long run – and where you connect with fellow community members to put all that confidence to good use out in the world.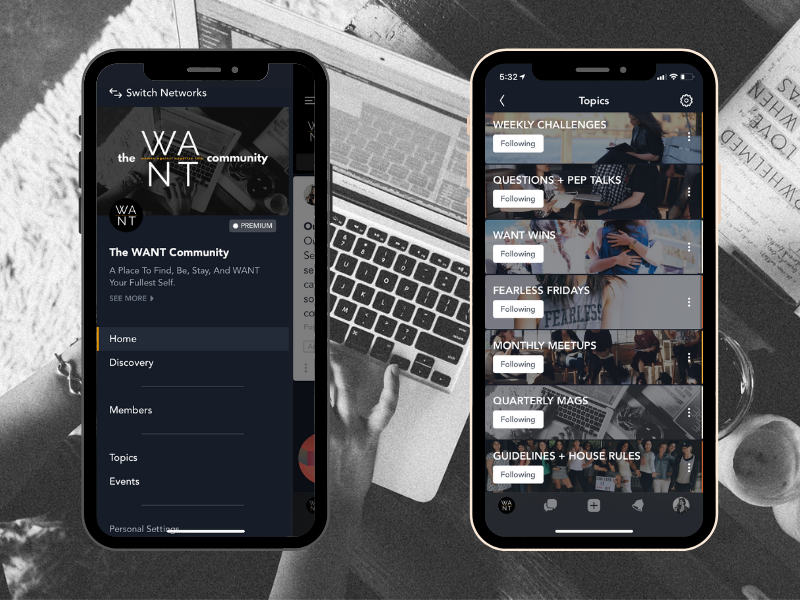 WHAT WILL I GET BY JOINING THE WANT COMMUNITY?
⚡️ WANT Your Self Today deliveries: Bite-sized pep-talks, prompts, and pieces of inspiration "From Your Self" (😊) in your inbox M-F
⚡️ Weekly WANT Challenges + Prompts: community prompts in the private clubhouse to make shift happen in both your world and the world
⚡️ Monthly Virtual Meetups: including Q+A sessions, mini-workshops, panels, workouts, guest speakers, community happy hours, office hours, and more
⚡️ WANT Your Self Quarterly: A digital mini 'zine delivered to your internet door 4xs a year containing community updates, member spotlights, notable TWC Wins, and more
⚡️ Our Private Community Board: This is my favorite part. Connect, cheer on, and bond with other TWC members. Download the app (WE'RE ON AN APP, and it's not owned by Facebook! 🤯) to stay connected wherever you go!
…and more.
HOW MUCH DOES IT COST TO JOIN THE WANT COMMUNITY?
Because "doable" looks different for everyone, we've got 3 pricing options to choose from, starting at $4.99/month. All plans are identical, and you can change at any time
Interested? Click below:
I cannot WAIT to get to know you better in The WANT Community — and, maybe even moreso, I cannot wait for you to meet EACH OTHER. You're gonna love each other.
LET'S MAKE SHIFT HAPPEN.
Meet you in TWC!