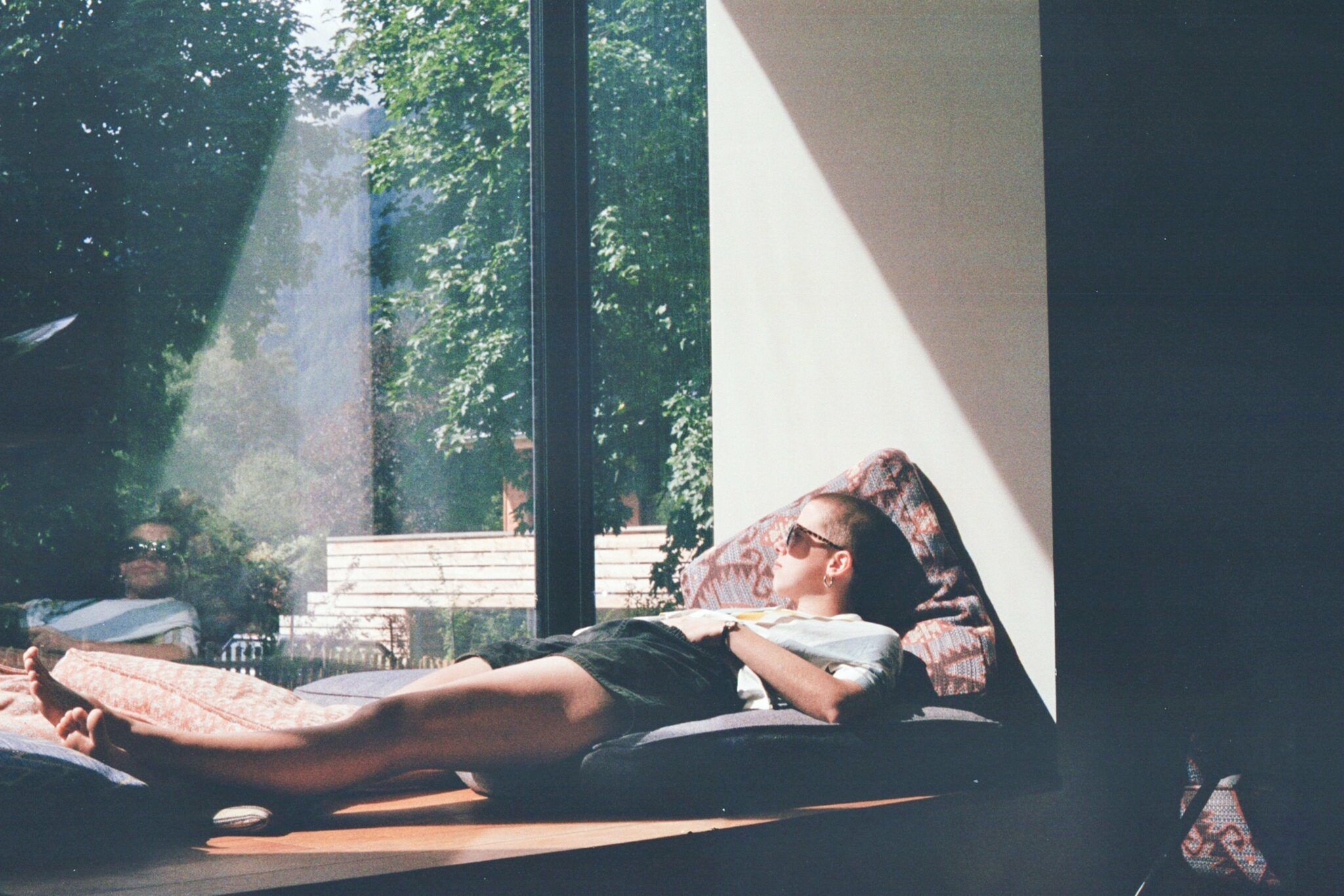 Everything is going great.
Nothing is going wrong.
There's so much good going on.
I am so excited to get married.
And, I am so. overwhlemed.
I always used to wonder why soonlyweds got so -zilla'd out over wedding planning. Sure, if there are big glitches, misunderstandings, or financial/cultural/any kind of stressors, it makes sense. But what often confused me was why one or more members of a couple would seem to start out the process either spitting fire, or curled up in a ball frazzled and fried even before a location or date had been set.
Now I understand why: when so much good comes your way, you sometimes don't know where to start.
When you're faced with an impending new beginning – whether it be a marriage or move or career opportunity – the giddy anticipation combined with the things you need to (nay, WANT to) do can bring out the best and most grateful person in you…or the most anxious and insecure.
Moreover, if you haven't been actively keeping your language in check, internally and externally, the good can feel foreign. You're going from one extreme to the other – and are in unfamiliar territory without even knowing it.
It's really easy to talk about being overwhelmed when you're overwhelmed by hard things – but it's harder to talk about overwhelm when all things are GOOD. Mainly because, well, our inner critic tells us there's nothing to be overwhelmed about. Overwhelm, it says, is about NEGATIVITY. And there's nothing negative happening here. Snap out of it.
I'm no stranger to enrolling myself into Camp Overwhelm, usually unknowingly. And many times, it happens when the most opportunities are at my feet. I end up feeling anxious, self-sabotage, and the cycle repeats. Or I just have a breakdown. Either or. (Insert half-smile emoji here.)
I'm getting better at it. The things that used to overwhelm me no longer do. I remind myself I've done this before, I'll do it again, and this is just another one for the list. But as a self-proclaimed go-getter, I sometimes back myself into a corner of so much good I don't know what to do with it.My mind instantly starts up with the negative self-talk. Jeez Katie. You're overwhelmed because you've got so much opportunity. Be grateful, why don't you?? The voice gets louder and louder and I sink into shame from feeling like my overwhelm means I'm not appreciative.
~
Part of the reason we get overwhelmed when too many good things happen is that we try to give everything our full attention all at once. Think of it like an overcharged phone or camera battery circa 1990something: just like if you'd leave your device plugged in for too long it would overheat, when we live life in a constant state of bouncing from one high-high to the next, we burn out.
But the bigger problem, and reason why a plethora of positivity can swiftly turn negative – is because negativity is the language we're using all too often on a day to day basis. It's so easy to creep into negative talk in positive moments – so easy, in fact, that you might not realize you've gotten into the habit of it until good things come your way. It's the language we use, the way that we bond, the tool we break out when we feel alone or scared or hurt or unsure or even just ambivalent. We can't expect to truly understand and accept the good moments if we haven't been practicing the language.
We can't expect to truly accept the good moments if we haven't been practicing the language. Click To Tweet
When left unchecked, our first response to Goodness-Overwhelm can be to complain or retreat into self-sabotagey behaviors to subconsciously "balance things out" (kind of like how we hold ourselves back when we think we're only allowed to have one "thing" we're good at…). You might even feel selfish or guilty about being overwhelmed in the first place. If I can't handle the good, am I even WORTHY of it?
I'm not going to get into the multitudes of ways you can manage your negative self-talk – that's what this site is for. But if you're feeling overwhelmed, especially if the things making you overwhelmed are GOOD things, here are six simple strategies – three internal, three external – to help you proactively persevere through whatever whirlwind you're facing:

INTERNAL: SEPARATE THE EMOTION FROM THE SITUATION.
The same rules apply when you're dealing with overwhelm for positive reasons and negative or tedious reasons – because whether it's a plethora of happy or aggravating things to focus your attention on, it's still producing the same reaction. The difference is that when you're overwhelmed with negative stuff, you're more likely to force yourself to go a positive, proactive place.
When you're overwhelmed with positive stuff, it's easier to pile on the guilt or negativity. Overwhelm isn't a positive or negative thing – it's just an emotional reaction to a situation at hand.

INTERNAL: GET HONEST.
Sometimes, overwhelm comes from the sheer amount of things occurring all at once…but sometimes, it goes a lot deeper. If you've got a lot on your plate, it's time to skip to the next step.
But if you're feeling overwhelmed because you don't think you deserve goodness or are afraid you'll be disappointed, it's time to recognize that. Are you overwhelmed because of the quantity of good things themselves – or because you don't think you deserve them? Or do you secretly think it's all too good to be true, and you might lose whatever has come your way? My friend Jen likes to say that "You can't kill a good thing" – meaning that if something comes your way that is good, it's yours for the keeping.
Still skeptical? Read up on how to tackle Ghost Worries.
INTERNAL: GET GRATEFUL.
Oh jeez, you're probably thinking. Another article on the internet telling me to be grateful for all the things I have. Hear me out for a sec.
When I say "grateful," I don't mean flipping a switch to the warm and fuzzies. We cannot wait for gratitude to come. We must actively wedge the language of gratitude into our consciousness. And that doesn't always feel warm and fuzzy. Gratitude starts by stepping outside your emotions and pragmatically recognizing the good things in our lives, which are all around you. Self-sabotage comes in when the positive things in our lives simply become tasks to check off a to-do list or burdens we feel we need to carry – basically, when we lose touch with how wonderful these individual instances actually are.
Practice seeing wonderful things, even if it feels forced or contrived or doesn't feel all that wonderful in the moment. Learning a new language isn't about conversing right away – it's about repeating single words over and over until they become second nature.
Gratitude starts by stepping outside your emotions + recognizing the good things all around you. Click To Tweet
EXTERNAL: PRIORITIZE.
After you've gotten real, gotten honest with yourself, and made gratitude a priority, get to prioritizing. Often times when we're feeling overwhelmed, we'll make decisions based on short-term relief instead of long-term success. Look at your day or week and compile a list of top to-dos. What is most important? What is most urgent? The things that are both important and urgent go at the top – they're the things that matter most. What's purely urgent (and not important) is usually reactionary and stress-inducing – skip them for now. We usually place so much importance on urgency we forget what is truly top-of-the-list material. Depending on your day, choose 3-5 top priority items, then draw a line and list the rest of your to-dos below that. Resist the urge to cross the line yourself (see below) until all the both-important-and-urgent items are taken care of.
Most importantly, do not be afraid to say no to as much as you need to. This might seem easy when your to-do list is filled with awesome things – but for some reason, we tend to over-extend ourselves OUT of that state of happy bliss way too often. When we're overwhelmed and can't see straight, we forget that the ability to say "no" and move forward, or just let certain things happen – not being a walking "yes" or people pleaser 24/7 – is the true sign of a leader who has things under control. And ps, who is able to enjoy the good things as they come her way.
EXTERNAL: PICK YOUR PARTNERS.
If you've ever read any sort of self-helpy article about busy-ness or overwhelm, you've probably learned by now to ask for help when you've got a lot to do. And it's been repeated over and over again because it's true: you simply cannot tackle every single thing in your life alone. Delegating tasks to others works. Loosening the reins of control over those things you don't need to have a firm grasp upon (but need to get done) helps save your sanity and also forms a sense of camaraderie. A few suggestions: enlist those closest to you, visit TaskRabbit.com, and delegate at work so that you're not leaving the office screaming every day.
But another important yet unexpected tip is to pick your celebration partners. Know who in your life you can call to talk you down from an anxious ledge and celebrate with you. Overwhelm is simply imbalance within a single individual. Help isn't just needed when you're in crisis mode – it's needed when you're celebrating, too. Whether it's a friend or your significant other, know who you can turn to for support, laughter, high-fives, or pep talks when you feel your cup is about to runneth over.
Help isn't just needed when you're in crisis mode - it's needed when you're celebrating, too. Click To Tweet
EXTERNAL: TAKE YOUR TIME TO POWER THROUGH.
All the positivity, planning, perspective, prioritizing, and partnering are nothing if there are not proactive steps made in a forward direction. Like the Nike ads say, just do it. But do it consciously. Treat the moment with the respect it deserves, not as a task you need to check off a list but a meaningful moment that is one of a kind. Take what I call "mental pictures" as you go, stopping to notice and note the details of when and where and how you are in the moment. Then take another step. Then another. Then another. It's a tricky feat to balance savoring the moment and actually getting things done, but when achieved, it's a surefire way to kick overwhelm to the curb.
When we're overwhelmed, it can sometimes seem like the world is pitted against us, preventing us from accomplishing anything or feeling like we're being the person we know we want to be.
But you'll find that once you start to show the world you've got things handled, once you start going, you start to realize that the sunshine is yours for the keeping.