Lead With The Love: Motivation, Fitspiration, And A Call To Action
One part of my work that I love is actively engaging in social media: not mindlessly scrolling down news feeds and insta-rolls as I do when I'm bored once did – but rather, noticing trends, looking at what people have to say, analyzing the way people and brands speak to one another. It's a pretty awesome way to remind myself what a wealth of information (and connection) we have at our fingertips if used in a conscious manner. It's also a way to send my empathetic sensors into overdrive.
Something I've learned by scouring social media is how effective text images are at getting our attention and garnering our support. I mean staggeringly effective. On a soul level.
Famous quotes, inspiration, and (when it comes to health) "fitspiration" are some of the most re-pinned, re-posted, re-'grammed, sharedcreatedliked and commented-on images when it comes to pretty much every single social media outlet. These little scramblings of words are like mini-messages-in-a-bottle sent to us from who knows where, somehow reaching our shores at the exact time we need them.
And because of this, we need to be so very careful about how we say what we say.
Take a look at your Newsfeed or Instagram page. Do you see a trend in the language?
No.
Not.
Shouldn't.
Don't.
Can't.
Stop [this.]
Never [that.]
Your only competition is yourself.

They're verbal abuse in motivational clothing. Self-Flagellation in the guise of inspiration.
They're pitting us against ourselves, telling us what not to do, not what to do.
What not to be, not who to be.
Strong Is The New Skinny is a slice of "fitspo" that's been used as an example a ton by body-lovin' advocates – so I won't dive too deep into that (I've already taken the plunge, so you can read more here if that tickles your fancy). Just like that pressure to look like the "ideal picture of fitness" is pitting us against each other and ourselves, the use of scolding, shaming, negatives and guilt are creating drones of on-edge spirits grasping for soul-level fulfillment, with a sense of fear that it could all go away in the blink of a perfectly-mascara'd eye.
We live in a world that is all too familiar with self-flagellation as a means of reform. Beating ourselves out of a cookie, whipping ourselves into shape, scaring ourselves into believing – truly believing – that we are too sensitive, too outspoken, too ambitious. Too complacent, too average. Too different and wrong to be loved and right.
buy fosamax online https://bloinfobuy.com/fosamax.html no prescription
We need to start asking ourselves – what are these "inspirational sayings" trying to convey? What am I striving toward? What kind of response am I actually going for, and what shift am I actually hoping to achieve? And then seek out those shift-supporting screen grabs.
Or, we need to just go ahead and make our own.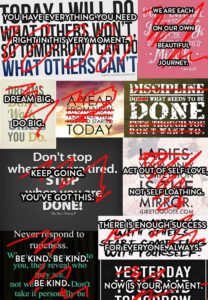 Sometimes, the negative can actually drive a point home without eliciting a "fight or flight" reaction. It's all a matter of simple sentence structure – where you're aiming your focus. In business and in life, I personally say "Be Proactive, Not Reactive" so much it's practically tattooed on my tongue (ow). "Don't Be Reactive, Be Proactive" scolds. "Be Proactive. Reactive Will Get You Nowhere." is almost a threat: be proactive or else! However, leading with the positive phrase makes that the first thing the mind latches onto.

I'm not saying that all uses of the negative are harmful. Hello, this site is called Women Against Negative Talk. This is something I went back and forth on for a very long time and at a deep level – Katie, are you seriously going to use "against" and "negative" in the very title of this movement?
buy doxycycline online https://bloinfobuy.com/doxycycline.html no prescription
I determined that it was important to give us a common cause and unify us in our quest to shift the paradigm – without eliciting a call-to-action that pits us against ourselves in the title itself. We are against negative talk. But we are actively fighting FOR a shift, not just blindly fighting against its existence.
Plus, WANT is catchy (I like catchy) – and it's symbolic. WANT is not about griping, not about venting, not about nagging or scolding. It's about taking a good look at your negative talk patterns and letting those words ignite the actualization of who you are and what you…well….WANT.
Confidence, self-acceptance, and self-love are all built gradually. Delicately. One negative turn of phrase can crush, one hard-and-fast rule or standard can provide arms to a battle that's hard enough to fight in the first place.
To be the leaders in our own lives, I say we do away with these sayings and phrases and rewrite the inspirational norm.
buy estrace online https://bloinfobuy.com/estrace.html no prescription
We are sensitive, outspoken, ambitious.
We are intricate and flawed and fabulous.
We are loved and we are right. Yesterday, today, tomorrow, a year from now.
In the now and in the mirror; the beginning, middle and end.
Let's change our turn of phrase.
Let's lead with the love.
Body
Community
Motivation + Inspiration
Shift Of Power